: Climate protestors gather outside Data Centres Ireland event in Dublin
Nov 17, 2021 | Posted by MadalineDunn
People Before Profit, is calling for an end to new data centers being buillt in Ireland, and picketed outside ​​Data Centres Ireland event in Dublin on 16 November in protest of the dangerous and continual expansion of data center building in Ireland.
The protest held outside the annual data center show in the Royal Dublin Society (RDS) venue in Ballsbridge, Dublin, saw protestors come together in outcry that data centers are already taking 12% of the national grid. Further growth, they said, would be irresponsible, hurting carbon emissions targets. 
People before Profit TD Bríd Smith commented: "We're trying to shine a light on the fact that we're facing down the barrel of blackouts this winter. We have a crisis in the provision and production of electricity – and most of this is because the data centre industry is taking 12% of the national grid currently. And if they keep growing the data centre business in this country, it could suck up up to 26%".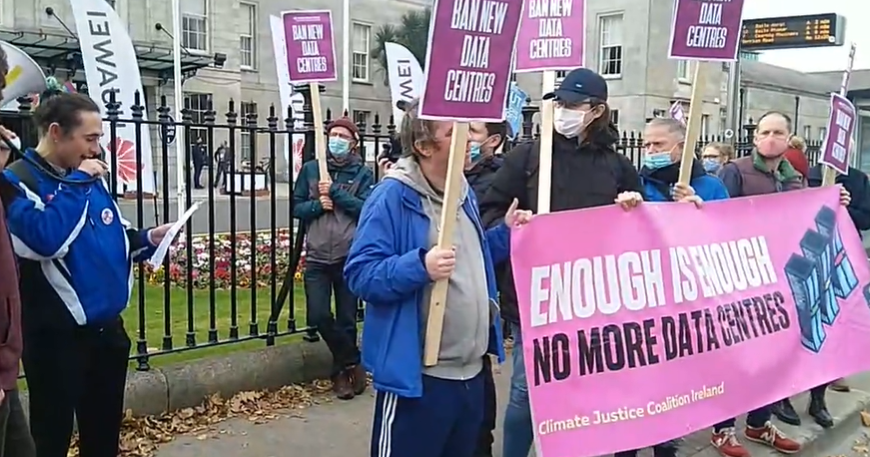 She added that with 70 already in the country, Ireland is not capable of supporting more. Despite this, an additional 30 data centers have received planning permission, with seven to eight under construction. 
While acknowledging that "modern society needs data" she outlined: "We are looking at a really deep crisis, plus this is linked with our climate action plan. If we keep growing data centres at this rate, we will utterly fail to meet our targets."
A protestor at the demonstration
said:
"We have doublethink from the Government today. "The doublethink is that we can transition away from fossil fuels, while massively increasing demand for energy. Reducing demand is an obvious part of this shift."
{{ commentCount }} Comments